How Small?
As some of you may know, we at WRD Systems have been working on our new, next gen, GPS tracker. The goal of this one is to be as small as possible, yet pack as many features as possible out of the box while keeping the cost low. We often get requests asking how small our tracker is. We tried communicating scale in millimeter, or took a picture of the board next to a coin, but they did not seem to convey how small our tracker can really be. To try to improve on this, we present the Matchbox Tracker: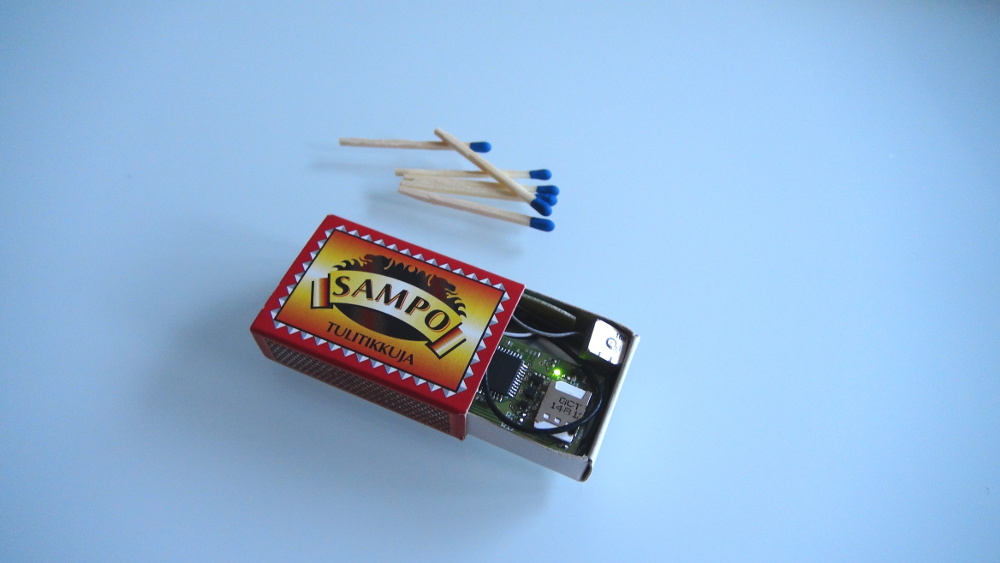 That is a fully functional tracker, including the battery and antennae, fully contained within a matchbox. That is also a normal matchbox, not one of those special large ones.
We think you can all agree that this is pretty small :-)
Some of the features:
State of the art GPS and GSM engine. Also supports GLONASS as an option.
Can use cell tower triangulation instead of GPS for e.g., indoor use or to extend battery life when full GPS is not needed.
Motion sensor on board to allow auto turn off of the module if not in motion. As soon as motion is detected, the device becomes active again. This greatly enhances battery life.
Temperature sensor on board.
More than a week of active tracking on a single battery charge. This can be greatly enhanced to months or even more than a year depending on use case.
Various different modes such as timely updates, alarm mode, tracking mode (send updates based on speed/heading changes) etc.
Reports position, speed, heading, temperature, battery status, signal strength etc.
Communication through either SMS or GPRS selectable by the end user.
Expansion port to add extra modules such as a logger and sensors.
...
The data the tracker sends out can be analyzed and visualized on our new web platform due to be released soon. Alternatively, the tracker can be integrated into existing platforms, or we can build a custom solution for your particular project.
The tracker is one of the smallest ones available in the market today that doesn't require a CIA/NSA type budget. We also happily provide firmware and hardware changes if the customer requires anything special or custom. We expect general availability by November or so; OEM's and larger projects are currently underway - contact us if you are interested.