Sabayon Linux and an HP Laptop
As a long time Linux user, and Gentoo in particular, I wanted to try a Gentoo derivative called Sabayon on my new used HP 6730b.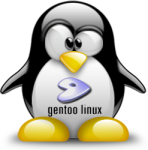 I downloaded the latest ISO, burned it to a DVD and plugged it into the laptop to boot the installer. The problem that occured then was that the system froze at the bios screen and the capslock and numlock key flashed in a repetitive 5 flashes - pause - 5 flashes, the DVD was spinning at full speed, the fan kicked in and... nothing.
Looking into that, I found that those 5 flashing leds indicate a general system board failure. Without the DVD inserted however, it booted fine. Something crashing the bios?
The solution to this problem is not exactly logical:
- Make sure the CD gets the highest boot priority in the BIOS
- Boot the laptop without DVD inserted
- Interrupt the boot sequence at the bios by pressing the escape key
- Insert the DVD
- Wait a little
- Continue normal boot process
I know... weird, but at least now I have a nice and shiny new Sabayon installation.